:: Interested in your own custom website? Be sure to use the contact button. I can build one for you! ::

:: All of the main BMX content is on the BMX page. Follow the link above and to the right to get there..enjoy! ::
CURRENT NEWS

11-28-13

Back in October I was able to get a track day in at Mid America Motorplex. The track has gotten very bumpy over the years and the paddock is being taken back by mother nature. I think I was last there in 2008. You can see how bumpy it has gotten in these two videos I made while there. Enjoy!

2014 will be upon us soon, watch for the race schedule to appear soon!






08-11-13

It's been busy with baby BAM, but with the extra babysitting time I've found myself with extra time for the website. The BMX page is brand new, so go ahead and check it out. We are also working on sponsors for the 2014 season. If you would like to partner with the BMX Team please use the contact link above and let us know, we are having new jerseys made this winter and would love to have your logo on it.



________________________________________________________________________

07-25-13

Check this old shot out! This is from 1997. I raced the AMA Superbike Series that year with Chicago Performance. Man I wish I had that old bike still.. It was a Race Kitted ZX7R. Pretty trick bike back then. These are my buddies and team mates.
Ken Krebs, Jim Milroy Jr, Greh Kahle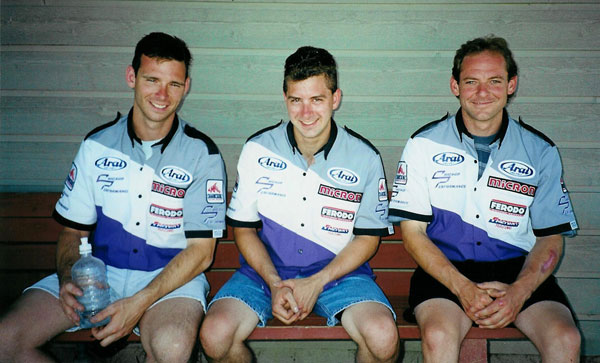 _________________________________________________________________


07-23-13

Road America! My favorite track.. not much else to say but that I love that place.

With baby BAM on the way this race weekend could have been just a long road trip.. but it wasn't.

Crew for the weekend was Kurtis of coarse, and surprise attendee Grandma Milroy (my mom)! We had a good road trip there and beautiful weather the entire weekend. I spent Friday using the SBTT track day as a practice day. I knew it would be a good weekend right from the get go, I was fast right out of my first morning session.
Front straight at Road America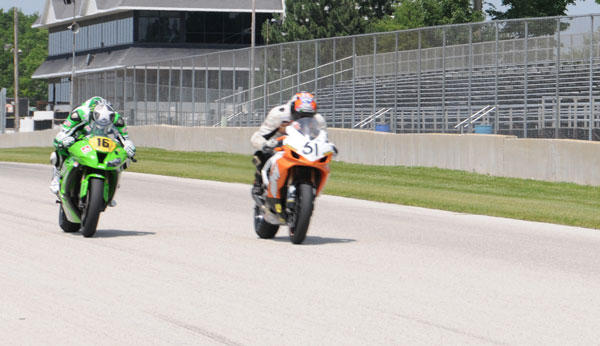 Saturdays racing came fast and furious.. I had three races nearly back to back to back.

My first race was Formula 40. I got a good start, made it to turn 1 in third, and by lap 2 was running away with the race. I am really good in traffic and by lap three I had hit back markers and made good use of them. I won Formula 40 by a huge margin, and kept my RA F40 win streak alive!

Next up was Formula 40 Unlimited. It came quick, 15 min break and go.. Racing the unlimited bikes with my 600 is always a challenge, and I try to make the most of it. I ended up forth and was just overpowered on the three long straights. I could run up on the bikes ahead and make some good late breaking moves, but they always got back by me in a straight line. Good fun!

One race later I was in Heavyweight Superbike. I got a another good start and took off for turn one. I battled all race long with another 600 that was stupid fast on the straights. It was a good hard fight that I ended up in 3rd place. Three races in a row like that are hard to do and I was ready for a good rest break before my last race of the day.

My last race on Saturday was Heavyweight Supersport. Once again, I found myself in a battle for second position. We went back and fourth and once again I ended up in 3rd place. I'm having to ride my ass off to keep up with the other riders. I am way faster in the corners, they just outrun me down the straights. Nothing I can do but ride harder.

At the end of the day it was time to prep the bike for Sundays races. Wash all the bugs off, clean everything else up, check bolts, adjust and lube the chain, download fuel maps, lap times, and get wheels changed for the ASRA Sportbike race.

Road America Paddock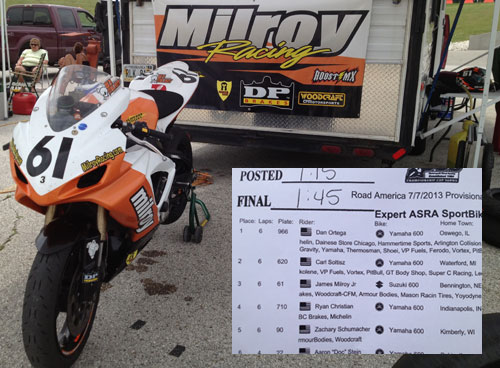 Sunday morning I skipped practice since I was going to use the middleweight supersport race for practice before the ASRA Race. In that race I got a really crappy start and ended up way back in the pack. I was passing guys left and right up till the end of the race. I finished 11th.. it was a good warm up for the big race coming up.

After that race I had just an hour to prep for the Sportbike event. I changed my wheels which had Michelin Tires mounted from Mason Racin Tires in Minnesota. He's the only person to buy Michelin tires from by the way. Also swapped fuel for some extra HP. Changed fuel maps with the computer to adjust for that change. And finally sit down for a few minutes and drink some water before the big race.

I had been planning on running the sportbike race for some time. While at BIR a couple weeks before I made sure to get extra tires from Mason Racin Tires for this race weekend since he would not be attending. The start of the ASRA Sportbike race was good. I got a great start and rode hard. Turns out I ended up battling with the same guy I had in yesterdays races. His bike was way faster than mine, but I was way faster in the corners. I ended up making passes with some crazy braking maneuvers only to be out motored on the straights. So instead of just doing some hard braking I set him up to use my higher corner speed then try and run away though some of the more technical parts of the track. That didn't work either due to how long the front straight is. So then I settled in for the last lap and just tried to be there incase he made a mistake.. he didn't. I ended up third in the ASRA Sportbike National. Not too bad. At tech we had to weigh in our bikes to make sure they were legal. Turns out my bike was 40 pounds heavier than the first and second place bikes! Not bad for a 7 year old bike either.. I feel much better about my riding now too! The podium was cool to do again, and my boy Kurtis was over the moon with his 44 year old man! Mom er Grandma was pretty excited too. Another great weekend of racing! Next up should be a bunch of BMX racing as we await the arrival of BAM! ----> Jimmy
ASRA Sportbike Podium - Jim MilroyJr 3rd Place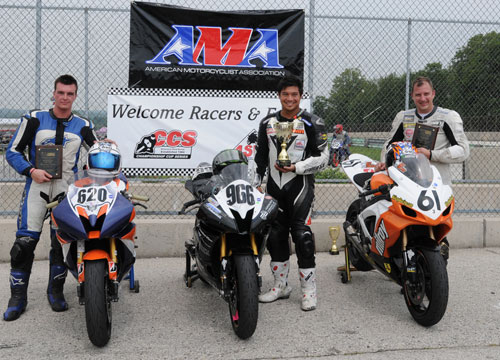 _________________________________________________________________
06-17-13
Welcome to the 2013 racing season!

I had planned on attending the CCS Races at Heartland Park this year, but when mother nature decided to drop the snow bomb during the first week of May, that kind of took the fun out of racing.. so I stayed home.



That brings us to BIR!
Learning the short course quickly! photo by sde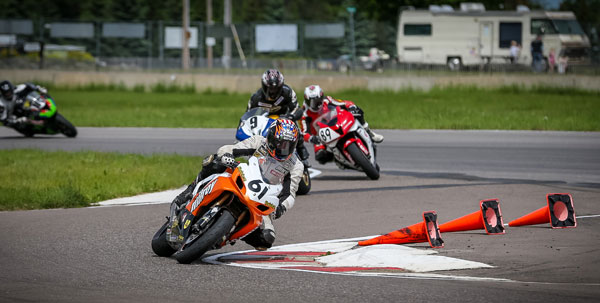 I drove to Brainered thinking I was going to race on the track that I have been racing on for over 20 years. That's not what happened. Once at BIR I found out that bikes can't race on the big track anymore due to a concrete wall that was added for open wheeled cars. Nice eh..NOT! Now I had to learn a new track. Luckily I had signed up for the practice day on Friday before the races. Practice went well, and I caught on to the new track layout fairly quickly. One huge help, they still use a lot of the big course, and on top of that there was brand new super smooth and grippy pavement! The new pavement really made the weekend, it was so nice to ride on and I would go so far as to say it's the best I've ever raced on!


I had an awesome pit crew this weekend!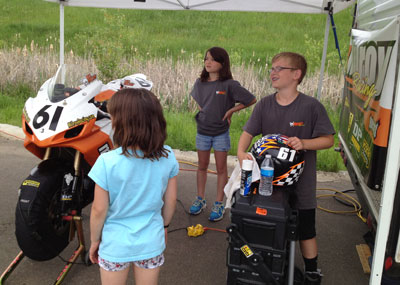 Another big plus to this weekend was the fact that I had the biggest pit crew I've ever had. Angee/BAM, Kurtis, Faith and Hope all lent a big hand and did a good job of cheering as well. My tire warmers and stands were always ready, and they even kept my faceshield bug free!

My first race of the weekend was Heavyweight Supersport. It was my first time starting a race the way they do it at BIR now. The start line and finish line are in two different parts of the track.. kinda weird! Anyway I did the best I could for my first race and and pulled off a good launch. The race went smooth and I ended up making several passes and moved forward through the field. I ended up in 5th place at the finish and with another lap I could have been farther ahead!

Next up was Heavyweight Superbike. Again I got a good start and made it through turn one and two a lot better after the start.. I raced hard and battled my way up to third place at the finish! I was really happy with that! My pit crew were also doing a lot of cheering.. that always makes things better.

Race number three for me on the day would be Formula 40. I got a great start, made some passes into turn three, and was never even bothered again. I took 2nd place in the 13 rider old guy class. First place was gone.. no way I was catching him. I need more track time at BIR to run that pace!

My last race of the weekend was Heavyweight GP. I got a decent start, but I ended up finding myself on the outside of turn one which is scary, then in turn two as well. My drive was gone and I was passed by several. I worked my way up to seventh place at the finish line. A bad first two turns at BIR will kill your drive into turn three.. it all hard work from there.

Overall it was a great weekend of racing.. even on the short course. I'll definitely be back to race not just the big track for now on, also the short one. ----> Jimmy


Paddock at BIR Short Course